About Mattress Discount
With the largest variety of mattresses in Southeast Michigan, we're trusted by families to provide the top products at the lowest prices.
Since 1991, Mattress Discount (formerly known as Mattress & Futon Shoppe) has been serving the Southeast Michigan area. Our stores carry an unrivaled selection of name brand mattresses, premium futons, bunk beds, mattress protectors, waterbed supplies, headboards, bed frames in addition to bedding, pillows and other sleep accessories.
We offer a variety of your favorite name brands including Tempur-Pedic, Serta, Sealy, Stearns & Foster and more, at prices you'll love! With the largest variety of mattresses in Southeast Michigan, we're trusted by families to provide the top products at the lowest prices.
Looking for the perfect mattress?
Our stores are equipped with expansive showrooms and they are staffed by our specially trained and talented mattress and sleep product experts! They will guide you through your options and help you choose the products that meet your comfort requirements.
Ready to find the perfect mattress at the perfect price? Visit one of our conveniently located stores today!
Find A Store Near You
Financing Options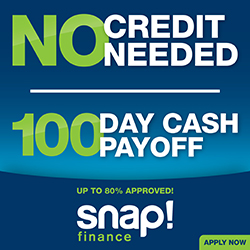 Frequently Asked Questions
What is the Mattress Discount Credit Card?
Mattress Discount offers customers a credit card through Synchrony Bank with a revolving credit line to use again and again at Mattress & More locations.*
How do I get the Mattress Discount Credit Card?
You can apply for a Mattress & More Credit card* at any of our convenient locations. Click here to find our locations.
Where do I check the status of my account?
To check the status of your Mattress Discount Credit Card click on the Manage my Account link above to go to Synchrony Financial's website.
How can I make a payment to my Mattress Discount Credit Card?
Mattress Discount offers three convenient ways to pay your Synchrony Credit Card bill.
Pay Online: Click here to manage your account and make payments online.
Pay by Phone: Contact Synchrony Bank Customer Service at 1-866-396-8254 during the hours listed below to make a payment by phone

Monday - Friday: 7:30AM to 12:00 Midnight EST Saturday: 10:00 AM to 7:00 PM EST Sunday: Closed

Pay by Mail: Mail payments to the address below. Ensure that you have plenty of time for your payment to arrive prior to the due date.

Synchrony Bank
PO Box 960061
Orlando, FL 32896-00

* Subject to credit approval. Minimum monthly payments required. We reserve the right to discontinue or alter the terms of this offer at any time. See store for details.
Returns
Choosing a new mattress is always an important decision. Shop with confidence at Mattress Geeks with our Worry Free Mattress Guarantee!
If you are not satisfied with your mattress anytime within 100 nights from original delivery, we will do whatever we can to make you satisfied and happy with your purchase - We will even issue you a refund! Mattress Geeks is committed to helping you find the right mattress and we're committed to your happiness.
Don't Worry, Sleep Happy... Guaranteed!
To qualify, the following criteria must be met:
Customer must purchase a mattress protector (non refundable) from us at the time of sale.
The mattress must be in the exact delivered condition at the time of exchange/pick up with absolutely no stains, tears, rips, insect infestations punctures or intentional/unintentional abuse of the mattress and/or set.
Maximum 100 days period
Transportation and Liquidation/Disposal fee $100 twin/full/queen and $150* on King will apply.
Customer may exchange for the same priced item or may elect to upgrade (normal up charges will apply). Downgrades will not not result in any refunds.
Cancelled Sales will result in an additional $100* processing cancellation fee.
Cancellation refunds will be paid by company check or reversal of the originating credit card. (Please allow two to three weeks for processing.) less any sheets, pillows, mattress protectors, pillow protectors.